At St Mary's, we believe that all children have the entitlement to a broad, balanced, creative and coherent curriculum which should prepare them for the opportunities and challenges of the 21st Century. They should be equipped with the skills, attitudes and dispositions they need to become well rounded individuals and life-long learners whilst instilling the love of learning.
In order for children to learn to think for themselves the curriculum should be enquiry based. It is important that children are responsible for their own learning enabling them to plan and show initiative; persevere and have a commitment to self-improvement.
The curriculum aims to:
Promote and sustain a thirst for knowledge and a love of learning.
Create a sense of wonder.
Promote inclusion, diversity and community cohesion.
Keep up with technology.
Encourage children to work independently and cooperatively.
Ensure that children are taught to become enterprising.
Develop emotional intelligence and raise aspirations.
Help to make children socially responsible.
Contribute very well to children's social, moral, spiritual and cultural development.
Ensure that all children realise their potential.
Ensure that children achieve high standards across a variety of subjects.
Cornerstones Curriculum
In 2017, we purchased a new curriculum for consistency and coverage across the school. Cornerstones provides an interesting, stimulating and varied curriculum for all of our pupils. Educational Visits and a variety of visitors enhance lessons and add a 'Wow' factor to teaching and learning. We use the Cornerstones Curriculum from Nursery to Year 6 to teach subjects including art, science, geography, history and technology. It is a topic based approach and each class follows a theme for a number of weeks.
The Cornerstones Curriculum is divided into stages. Each stage provides opportunities for children to learn and respond in a variety of ways, keeping projects flexible and able to follow children's interests and needs.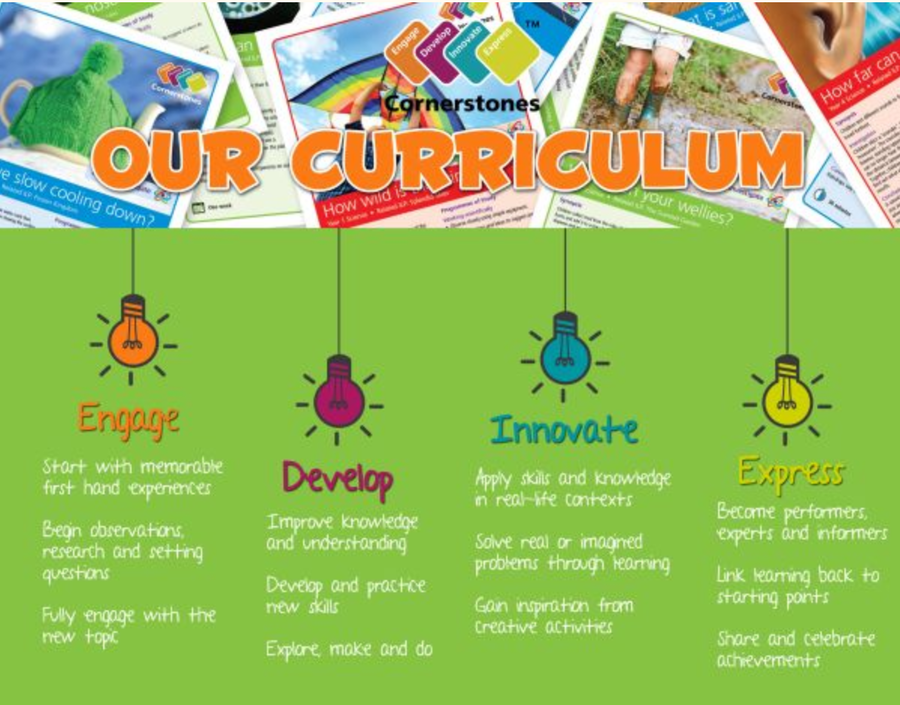 Early Years Foundation Stage
We use a play based interactive approach to deliver the Early Years curriculum which focuses on seven key areas of learning. Our pupils use the indoor classroom and outdoor areas choosing from a range of activities throughout sessions. Reading, writing and maths are taught using a structured approach with whole class and small group adult lead activities.
Key Stage 1 and 2
Morning lessons focus on the teaching of basic skills, reading, writing and maths.
Across school reading is taught using whole class and individual reading sessions with adults. All pupils use their reading skills across the curriculum to develop their understanding and to promote their enjoyment of reading. In Key Stage 1 (and when required in Key Stage 2) the teaching of reading is supported through the use of the 'Read Write Inc' phonics programme.
Writing is taught daily, with opportunities in other curriculum areas being provided for pupils to write for 'real ' purposes eg/ letters, newspaper articles, posters. We have a strong emphasis on handwriting using Penpals.
Maths is taught using in daily maths lessons and fluency is developed throughout the day in short bursts.
Collective Worship
Children take part in an act of Christian worship every day. This either comprises of two whole school assemblies, one delivered by a member of the clergy, one family worship comprising of classes from each bay, and two acts of class worship on the remaining days.
The acts of Christian worship are in accordance with the Education Act 1988. Parents have the right to withdraw children from religious assemblies and religious education lessons, pursuant to their rights under the Schools Standards and Framework Act 1988. Children of other faiths who are withdrawn from assemblies and lessons are given alternative work by their teacher.
Parents who wish to withdraw their child from Religious education and the act of worship should consult with the Headteacher.
British Values
In 2011, the government defined British Values as democracy, the rule of law, individual liberty, mutual respect and tolerance of different faiths and beliefs. We promote these values through our own school values, curriculum and enrichment activities.
Our Cornerstones and PSHE curriculum supports the understanding and importance of celebrating British values