Year 6
Welcome to Year 6! Our Year 6 classes are split into Cherry class (Mrs Whiteley) and Ash class (Miss Wood). Year 6 is such an exciting time for our children - we love celebrating every achievement with them!
We hope you find the information on this page useful. If you can't find what you are looking for please come and see one of our staff team who will be happy to help you.
This half term our topic is Food, Glorious Food. We are sure that the children will really enjoy taking part in this year's Year 6 production of 'Oliver' and we hope to see you there too!
It has been a wonderful year. Although we will be very sad when our classes leave us at the end of the term, we know that the next chapter of their lives will be filled with new and exciting challenges and opportunities.
We wish them all the best of luck and we hope that now and again they will pop in and tell us about their adventures.
This term our topic is Double, Double, Toil and Trouble.
Watch this space as we will be adding photographs of our learning throughout the half term.
SATS Reminder
The national KS2 tests will take place on Monday 13th May 2019.
Monday - Grammar and Spelling
Tuesday - Reading
Wednesday -Mathematics paper 1 and paper 2
Thursday - Mathematics paper 3
Celebrating out of school achievements
This young man was given the 'Man of the Match' award by his local football club. Well done :)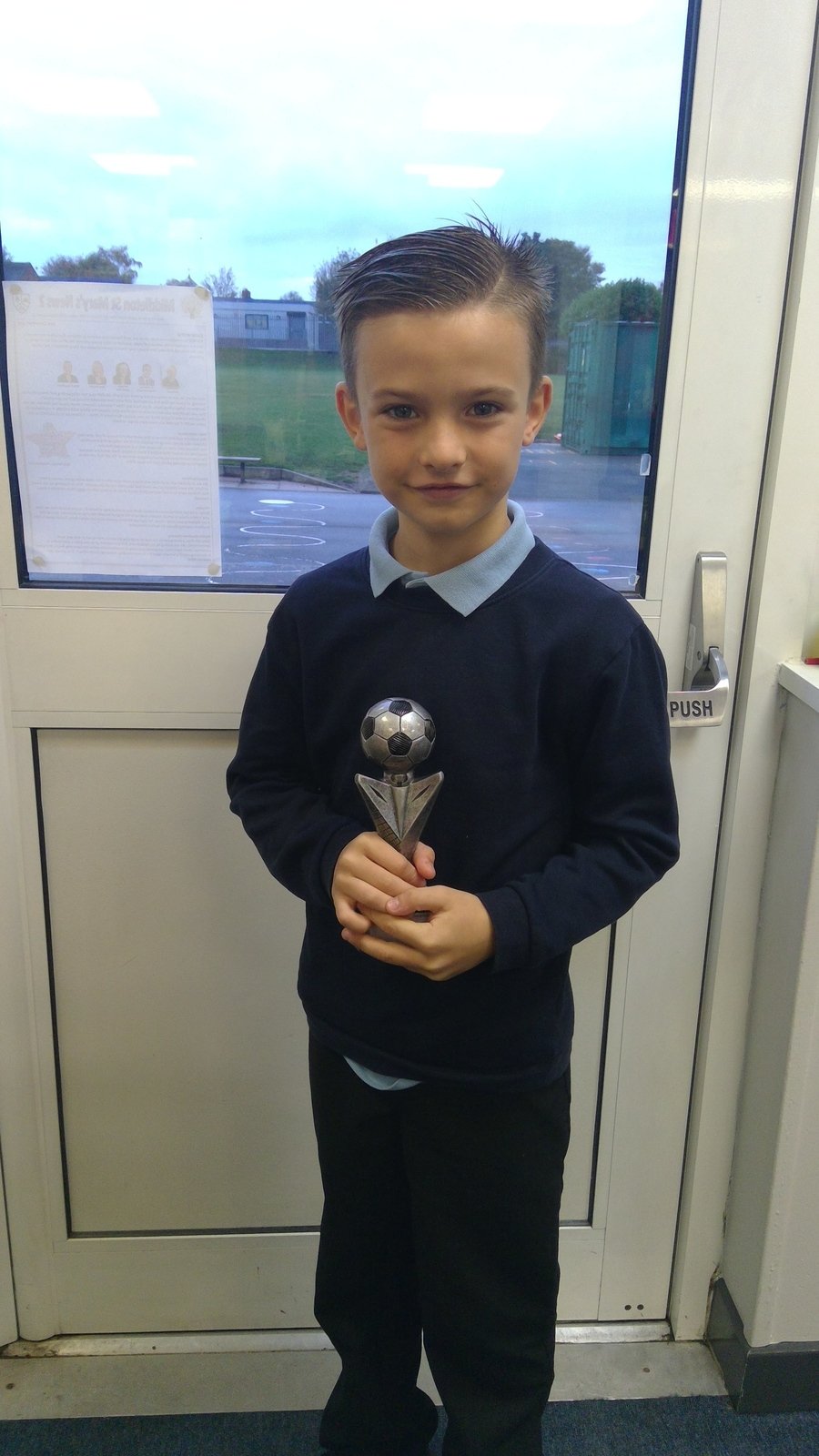 As part of our whole school Black History Month topic, the children made bunting with an African theme. They had to draw their design onto a polystyrene tile and then they applied the printing ink. Working in threes, they produced a section of bunting. Watch out around school to see if you can spot their wonderful creations.
Sculpting Mayan Masks
This term, we are developing our ability to sculpt Modroc. Before we can start to make, we need to gather ideas so that we can produce a final design. Today, we used the ipads and pictures of Mayan masks to help us. There was lots of thinking involved and lots of sketching of ideas too. Keep looking as next week we are hoping to start the sculpting.
Donations of old adult shirts or T-shirts and newspaper would be gratefully received - it's going to get messy!
Den Building
On the last day of the summer term, our new Year 6 children had a den building morning. Working in teams, they had to build a structure that would withstand a storm. It was a pleasure to watch them listening to each other, compromising and showing great resilience when their plan didn't quite work out. Look at the photos below to see their grand designs. Which one you would chose to shelter in on a rainy day?
Useful Websites
The best way to help your child with their learning is to read with them and to them as often as possible. The links below will take you to websites that can also support their learning.
We also recommend you download the 'Talk Share Learn Leeds' App which will give you some practical and fun ways to develop your child's speaking and listening.
Important Days
PE
Cherry - Wednesday and Thursday
Ash - Wednesday and Friday
Spellings
These are given out on a Monday and will be tested the following week.
Times tables
The children will be tested on a Monday and Thursday. The test will be personalised to your child and your child will receive a times table sheet which highlights the tables that they need to learn. It is important that they can recall these out of order and at speed. The times tables are not just used when answering multiplication questions but also when working on other areas such as percentages, fractions and division.
News
Year 6 News
Is your child in Y6? If so, it's time to apply for a Secondary School Place. Please follow the link to the Y6 page for more information.
Further Articles »